Travelling information
22. 06. 2020.
---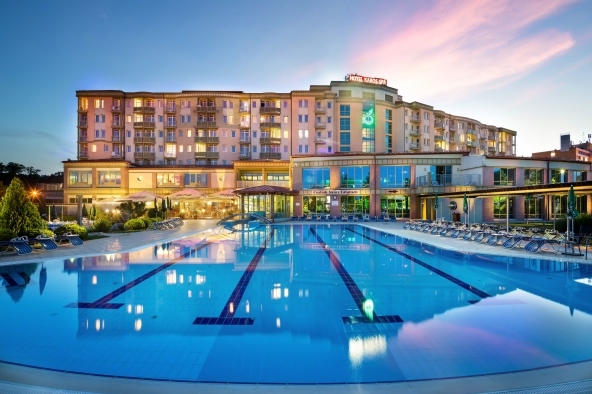 ---
Our dear guest!
When you want to go to Hotel Karos Spa**** for your trip to Zalakaros, we would like to share with you some important information to make your stay undisturbed. We will reopen our hotel to our guests on June 24, 2020. In accordance with epidemiological regulations, we also give priority to the maximum safety of our guests during their stay. Our huge treasure is our well-kept park on nearly 5 hectares, where you can finally move out of the four walls of the quarantine period to take refreshing walks.

Hospitality
We weren't idle during the forced shutdown either, our  Shipbar is waiting for a pleasant cocktail with a renewed look. In our restaurant in Eden, we observe the prescribed safe distance between the tables. Unlike before, meals are served at meals, and from the buffet table, our colleagues serve in masks and gloves.
- Spa Caffé & Shop: 08:00 - 12:00
- Eden Restaurant:
Breakfast: 07:00 to 10:00
Snack TO GO: 12:00 - 15:00
Dinner: 17:30 - 21:00
- Shipbar: 10:00 to 22:00
Swimming pool, Wellness:
An 800 m2 water empire awaits you, with outdoor and indoor pools to make your holiday truly unforgettable. Of course, our swimming pool and wellness services can only be used by our hotel guests. Our outdoor swimming and adventure pool, indoor swimming and experience pool, children's and plunge pool, thermal pool, saunas and fitness room continue to operate with limited hygiene requirements.

Please use slippers during your stay at the swimming pool. Use the shower and foot disinfectant before and after using the pool. From June 2020, wellness towels and sauna sheets can be picked up in the swimming pool with the cards provided on arrival. For wellness treatments, look for our discounts at the wellness reception.
Swimming pool: 08:00 to 19:00
Sauna: 08:00 - 17:00
Wellness treatments: 9:00 - 15:00

Summer child's play
During the summer, our children's play will be available to our younger and older in our huge Gala Room, where we will love them with many interesting toys. We will mainly keep our programs outdoors for proper security. The weather may therefore overwrite our preliminary camels, so we reserve the right to change the program.
Summer children's playground and babysitting: 9:00 - 17:00
Parking
You can park in three places in our hotel. Outdoors in the Yellow car park (in front of the main entrance), in the Green car park (hotel back entrance) and in our Underground Garage. In case of using the underground garage, we provide free electric car charger use!
Our common areas, reception:
Please disinfect your hands upon arrival. In our public areas, we disinfect several times a day, and we place 12 non-contact hand disinfection points on the hotel premises. We also disinfect our rooms during daily cleaning.
Further information: www.karos-spa.hu
If you have any questions, please contact us at the following email address: sales@karos-spa.hu
We look forward to seeing you here at Hotel Karos Spa**** soon!